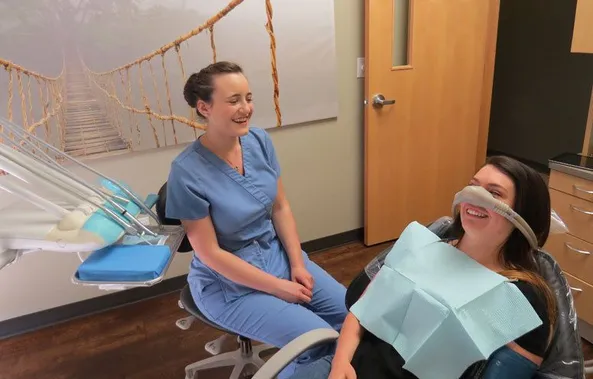 Nitrous Oxide
A method of light sedation. Also called "laughing gas", nitrous oxide is used easily and safely and enjoyed by the majority of dental patients. The gas used is nitrous oxide mixed with oxygen and delivered through a small mask that fits lightly on your nose.
Benefits to you!
We offer nitrous oxide to all our patients for any procedure, even cleanings and exams.
It wears off quickly
In most cases 5-10 minutes after your procedure
You are able to drive yourself home after your dental appointment
It is extremely safe; over 125 year track record in dental treatment
Mild or Twilight Sedation
Mild sedation is achieved through the use of small pills taken by mouth prior to your appointment. The pills come from a family of drugs called Benzodiazepines, and are known for their long history of both effectiveness and safety
Benefits to you!
Safety!
The medicines are reversible, making the procedure effective and safe.They generally wear off a few hours later
Relaxation
You will be in a very relaxed state, where anxiety and fear can be eliminated
Mild sedation induces light sleep
Allowing most patients to doze off during the appointment
You will have little to no memory of your treatment
You will have decreased awareness of sound, smell, and pain
Most patients report not having any discomfort at all!
IV Sedation
Deeper sedation is achieved through the administration of sedative medicine through an IV. The placement of the IV is done by Dr Lin, and the majority of patients explain that the IV not only does not hurt, they have no memory of it! IV Sedation produces a profound state of relaxation and it can be used to sedate patients to a point where they are completely unaware of any dentistry performed. You will be monitored continuously by both Dr Lin and his staff with the assistance of advanced monitoring technology to ensure your safety.
Benefits to you!
Safety
Dr Lin is able to control the medicines to the exact amount needed to reach optimal relaxation
Accuracy
Because Dr Lin uses the advanced IV method, smaller amounts of medicine can be used
Superior for longer appointments or for patients with high anxiety
Patients will have virtually no memory of appointment and diminished post appointment discomfort
Effective
Great for extractions, medicines are reversible, making the procedure effective and safe.They generally wear off a few hours later
Success
IV sedation has a success rate of approximatley 99%